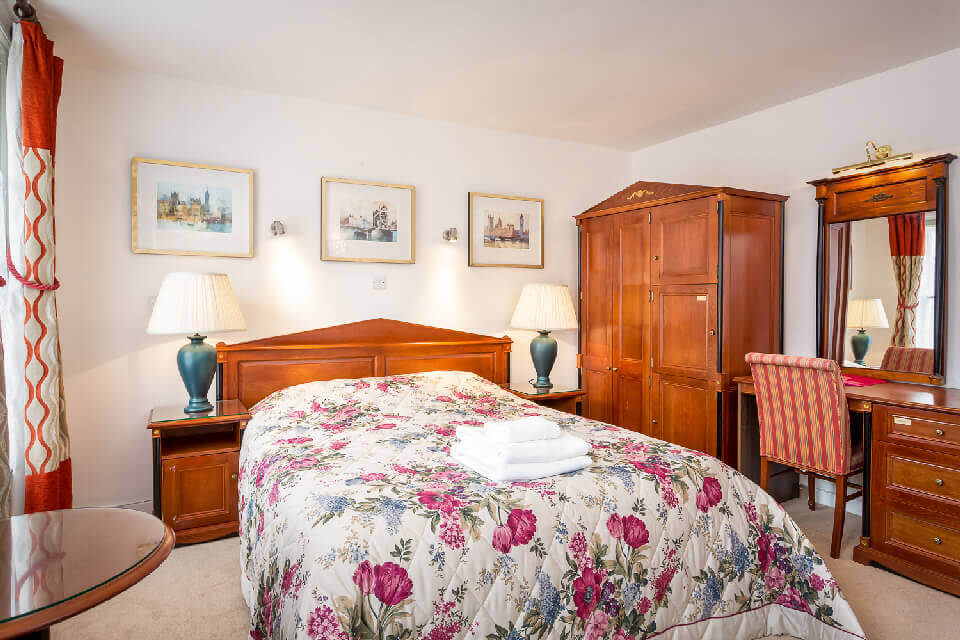 Location
The hotel is not easy to find. Look out for Salernos restaurant 300 metres on the right going out of town from the Cross (or 100 metres on the left going into town past the Abbey) We occupy that block of buildings. The car park in in Saint Marys Lane at the rear of the Hotel.
To get to the car park take the first right driving out of town from the Cross or the second left driving into Town from the Abbey.
There is only just enough parking – please park well.
The Abbey Hotel is located in the historic Tudor town of Tewkesbury in Gloucestershire and borders with Worcestershire.
The Abbey Hotel is surrounded by numerous historical and places of medieval culture, but none more important than the famous Tewkesbury Abbey.
Tewkesbury Abbey
Founded in 1087 by nobleman Robert FitzHamon to house Benedictine monks, even today it surpasses fourteen cathedrals in size. After the 'dissolution' by Henry VIII in 1540, the Abbey was sold to the parishioners for £453.
Museums
Within only a few paces of The Abbey Hotel, one can cross a museum threshold and gain a thorough understanding of the true culture of Tewkesbury and, it's development spanning over one thousand years.
Water Ways
There is no better place than Tewkesbury to enjoy the open water. Being situated right at the very convergence of the rivers Avon and Severn, plays a significant part in the towns 'easy going' culture.
Golf Courses
The town of Tewkesbury is well provided with a number of well established Golf Clubs therefore, a short stay at the Abbey Hotel puts you right in the heart of golfing country.
Health & Leisure
Water based activities include Tewkesbury Marina for sailing & boats and Croft Farm for windsurfing, sailing & water sports.
you can travel to the Cotswolds towns such as Broadway, Winchcombe, Moreton in Marsh. There are so many activities going on within reach of Tewkesbury, which is the perfect place to use as a base, to pursue the activity of your choice.
Horse Racing
For four extraordinary days in the middle of March, the racing community from all around the world converge on Cheltenham & Tewkesbury for the Cheltenham Festival Gold Cup.
Jazz Festival
Jazz at it's very best.
The International Liver Cromwell Jazz Festival is held in June every year at Upton upon Severn.